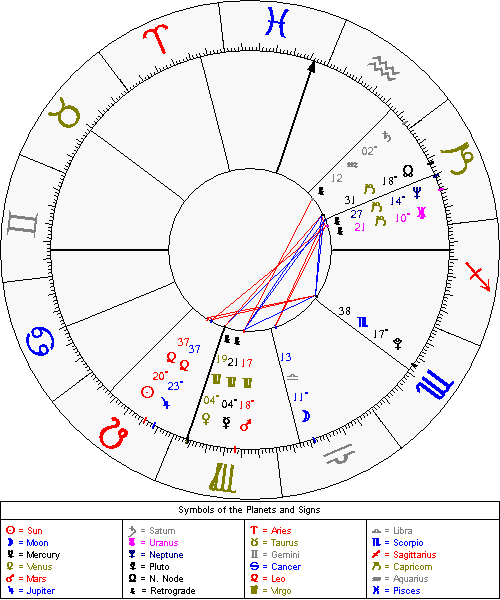 Hi there, here is the interpretation of the astrological chart that you asked for. Also attached is a . It represents your Unique picture at the time you were born and at the place you were born. If you are unsure of the exact time of day of your birth (or the date or the place), the reading will probably not seem as accurate as it could be in certain places, but other parts will seem to be very appropriate. You will notice at certain places in the reading that contradictory information seems to be given. This is to be expected, because the personality of most people is extremely complex. For example, at times we are quite shy and at other times we are very aggressive, and so forth. You will also notice that, at certain points in the reading, certain patterns may be repeated over and over, especially in a longer more detailed report than this one. This is also to be expected. This simply means that your horoscope has an extremely strong focus on this particular pattern and that you should pay extra close attention to what is said about it. Now, on with your Report!
Name: 
//       –       :
,
Rising Sign is in 22 Degrees Gemini
Extremely active by nature, you like to get around, meet people and do different things. Very restless, you just can't seem to stay put. You need to be involved in several projects at once in order to keep your mind stimulated. You like to read books and to write letters and to talk — constantly. Seemingly ageless, you will always appear to be much younger than you really are. Very adaptable and inquisitive, you are always open to new ideas and experiences. A "jack-of-all-trades", you are lively and versatile. Because of the high nervous tension that you always seem to have, athletic activity would be a good way for you to burn off energy. But be careful of a tendency to experience things only superficially — try to dig in and absorb things at a deeper level.
Sun is in 20 Degrees Leo.
More than a bit of a showoff, you love to be the center of attention! But others do not usually mind because they tend to enjoy your genuine warmth and affection. Very spirited and willful, proud and self-important at times, you demand your own way. You are quite honest, however, and the respect of others is very important to you. You never compromise yourself and you pursue your goals with persistence and dedication. Your regal presence and demeanor draws you to positions of leadership and authority. But beware of being overly hardheaded, domineering, ostentatious or patronizing or you will lose the goodwill and admiration that you enjoy. Very theatrical, you live life on a grand scale wherever and whenever possible. Your strength and energy vitalizes those who come in contact with you.
Moon is in 11 Degrees Libra.
Affectionate, warm and friendly, life must be a "beautiful" experience for you. Unpleasantness should be avoided at all costs. You tend to overlook other people's faults and you would rather give in than fight. You are uncomfortable with strangers, but at ease and sociable with friends and associates. Indeed, you would rather socialize than work — you can use your prodigious charm to avoid unpleasant tasks. You need the support and assistance of another in order to get you started on any new project — you are not a self-starter. Be careful of a tendency to be overly self-indulgent (i.e., lazy). Your refined aesthetic sensibilities attract you to music, dance, art and any other cultured activity.
Mercury is in 04 Degrees Virgo.
Very thorough and efficient, you pay attention to the minor but important details of any project. You are a careful thinker who can learn complicated, intricate techniques. You are attracted to practical, useful skills and are probably good at working with your hands. You are very critical of yourself and others, sometimes too much so, and you get the reputation of being a nag or of being nit-picky. Your first reaction to any situation is to try to organize, classify and analyze everything!
Venus is in 04 Degrees Virgo.
You express your love and affection through selfless service to people or causes. You have a tendency to underestimate yourself and doubt your self-worth. This is very demeaning and should be avoided — learn to love yourself as well as you do others. Your standards of perfection are very high — you are attracted to relationships based on duty and responsibility. You are supercritical of yourself and others and, at times, prefer to be alone rather than deal with any imperfections in yourself or in those with whom you might relate.
Mars is in 18 Degrees Virgo.
Very careful and systematic, you pay great attention to details. You are always seeking perfection and sometimes get bogged down searching for the ultimate when adequacy would have been sufficient. You dislike abstractions, preferring whatever is practical, useful and demonstrable. You have a strong and enduring sense of personal responsibility, and you demand that others be as responsible and upright as you are. Very critical of yourself and others, sometimes you carry this too far and become overly intolerant of others and their right to choose their own lifestyles.
Jupiter is in 23 Degrees Leo.
You must be proud of all that you do in order to grow and develop. You enjoy being totally honest and aboveboard and you revel in the admiration and respect you receive from others due to your high- minded, upright way of life. Make sure, though, that your natural tendency to boast and show off is based on your actual accomplishments. Don't fall prey to self-exaggeration or arrogance. You truly do like outrageous spectacles and grand jolly times and will go out of your way to make them a reality.
Saturn is in 02 Degrees Aquarius.
Your personal sense of values is a reflection of the value structures of your peer group and of those you respect and admire. Try to be more critical in your acceptance of these values — you tend to prejudge the abilities of those you trust and then follow what they say blindly. Basically very conservative, you prefer orderly, systematic changes and fear doing things rashly or impulsively. Ideas and philosophies must have some sort of immediately realizable, utilitarian function in order for you to pay any attention to them.
Uranus is in 10 Degrees Capricorn.
You, and your peer group as well, seek out practical solutions to a changing society's attitudes to customs, traditions and authority structures. Your logical and orderly manner of dealing with these matters will result in permanent and carefully planned, but sweeping, reforms.
Neptune is in 14 Degrees Capricorn.
You, and your entire generation, will idealize work, practicality and the ability to attain reasonable goals. But, because you will also stress the need to be selfless and giving, you may find it difficult to attain your goals unless you have lowered your expectations on all fronts.
Pluto is in 17 Degrees Scorpio.
For your entire generation, this is a period of intense research and discovery in areas that were heretofore considered mysterious, remote or taboo. The root causes for many complex occurrences will be unearthed due to the intensity and thoroughness of the search.
N. Node is in 18 Degrees Capricorn.
You rarely get involved closely with anyone unless he or she has something specific and practical to offer you. You tend to be "all business" when it comes to dealing with others. You're usually so intently focused on a particular goal that you rarely have time for social niceties or casual fellowship. But you can definitely be counted on by others to get things done. When you say that you'll do something, you do it. As such, you're a valuable member of any team situation and will probably rise to a position of leadership within the group. Your trustworthiness and sense of responsibility are unquestioned. But do try to avoid the temptation to "use" others to reach your goals — they might come to resent you.
If you would like a detailed (approx 30 page) interpretation of your astrological profile which includes your houses, aspects, and major trends in your chart – or if you would like other reports or readings that depict your life and the influences that you are under for any specific dates – See our chart service offerings at http://alabe.com/chartservice or contact us at 1-800-THE-NOVA for prices and information.